Program Overview
Interdisciplinary Studies (IDS) is a customizable degree plan that allows students to choose courses and minors of interest and which work towards students' post-graduate goals
There are three concentrations in the major, and students earn a Bachelor of Arts or a Bachelor of Science degree, just like any other undergraduate major.
Essentially, IDS is a flexible degree which allows students to create an individualized program of study tailored to the unique interests and needs of the student.
IDS is a popular major and one of the largest majors in WCU. As of Fall 2022, about 400 students are enrolled in the various tracks.
You'd have a surprising number of options available after graduation. Many students go to graduate school or to post-baccalaureate certificate programs in a field of their choice. Others go on to entry level positions in business, social services, healthcare, and industry, often in an area associated with their academic minors or with their internship if they participated in one.
After graduation, our students work in industries related to their course of studies and their interests. At IDS, we take care of explaining and helping our students tell their story while seeking employment or if going into grad school. Careful advising practices become central from the moment a student decides to switch into the program and until each student's last semester at WCU. You can take a look at what University College graduates are doing.
Many discover that their interdisciplinary skills, knowledge, and experiences open doors in occupations they never considered. An increasing number of employers are less concerned about the title of a degree, and more concerned about the qualities a prospective employee brings in and the value that prospective employee can add to their company.
Searching for the right vocation or the "perfect job" can be challenging. The Twardowski Career Development Center provides a variety of services for students engaged in the search for a career path
Students who are looking for a major but cannot find a "good match,"
Students who "think outside the box,"
Students who are interested in several disciplines and don't want to spend all their time studying one major,
Transfer students who want to make the most effective use of their earned credits,
Students who want to stay at WCU but major in a discipline not offered, such as advertising, real estate, animal science, etc,
Students who are more interested in what is IN the major (and the skill set they can develop and hone while pursuing their curriculum), not what the major is called,
Students with high number of credits earned who are not enrolled in a major, and
Students who are presently enrolled in a major but will not be able to (or choose not to) complete the requirements for that degree.
Any student may apply to Interdisciplinary Studies.
Current WCU students should meet with an IDS advisor to review their goals and interests and to understand their path to degree.
New first-year and transfer students may request to major in Interdisciplinary Studies on their applications.
Once accepted to WCU, new students should also meet with an IDS advisor.
Please note that students on Academic Probation may be accepted into IDS but must commit to raising their GPAs immediately.
What would you like to learn more about?
What is interesting or seems useful for your goals?
What discipline have you already earned a lot of credits in?
If you are uncertain how to proceed, meet with an IDS academic advisor to discuss your options.
Remember, all IDS tracks require at least one minor, but you can certainly enroll in more than one as part of your concentration. Students should research the minors available and of interest, using the Undergraduate Catalog, the prospective minor department office, and that department's web page.
Students with an earned Associate's degree from a Pennsylvania community college should be conferred an Academic Passport and do not have to complete general education courses they have not yet earned (with a couple of exceptions).
IDS is so flexible the likelihood is we can use all your earned credits towards graduation.
Meet with an IDS advisor
The short answer is because you must in order to enroll in classes and discuss your plans.
All WCU students must meet with an academic advisor at least one time each semester in order to have the Advisor Hold lifted. Students may only enroll in courses at the appointed time IF they have already met with their advisor.
While the flexibility and individualized nature of IDS is appealing, it also creates the need for great care in planning and executing the student's academic plan.
By meeting on a regular basis with your academic advisor, you reduce the likelihood that mistakes will occur.
Students work with their advisors to create an academic plan for completing all the requirements for graduation.
Your academic advisor is also a good sounding board for any issues you might run into.
Academic advisors are also interested in helping students clarify their short-term and long-term goals. The selection of minors and of elective courses may depend to some degree on those goals.
Ultimately, it is the student's responsibility to know what the requirements are for earning their degree, and to then complete them. The academic advisor is an excellent resource to use to ensure that the student is on the correct path.
Use our scheduling links to make advising appointments:

You can schedule a meeting in person or on zoom.
Sure, if you have basic question which you could not find the answer to after searching online, please email your advisor: Ann Colgan or Cristobal Cardemil-Krause
Use your WCU email account if you currently have one
Complex questions requiring longer, in-depth answers should be saved for face-to face/ Zoom meetings or phone calls.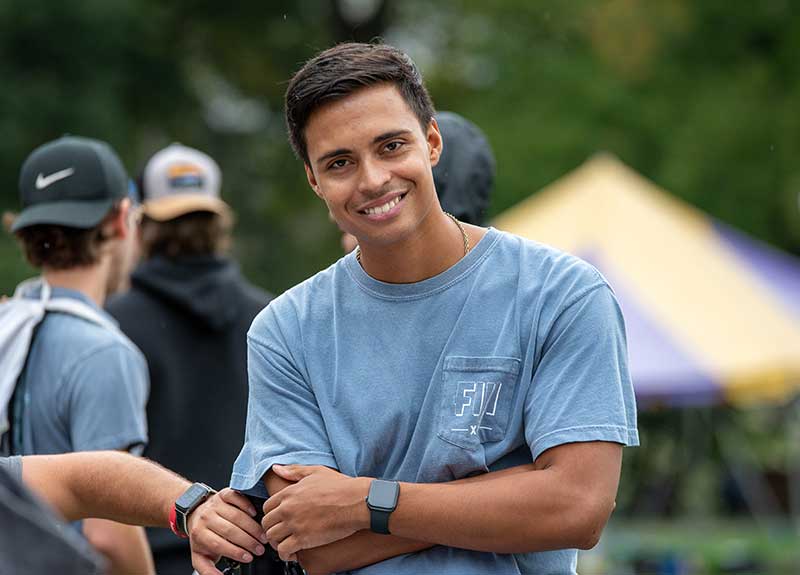 Student Testimonial
I had a lot of credits from my two previous schools, and IDS used all of them, so I can still graduate on time. I plan to work in Behavior Management, so my Psychology and Special Education minors are ideal for showing I understand the complicated issues of my clients.
- CB