DNP
Doctor of Nursing Practice
The Doctor of Nursing Practice (DNP) is for the nurse with an earned Nursing Master's degree.
Now Accepting Fall Applications
The Doctor of Nursing Practice (DNP) is for the nurse with an earned Master of Nursing Science (MSN) degree. The DNP program is a 35-credit online program approved by the Pennsylvania State System of Higher Education (PASSHE) Board of Governors and accredited by the Commission on Collegiate Nursing Education. A combination of DNP and PhD-prepared faculty, many of whom are advanced practice nurses, teach the courses in the program.
The curriculum has three components: The Science of Nursing (10 credits), Leadership (9 credits), and Practice (16 credits), building on traditional MSN programs by providing education in evidence-based practice, quality improvement, systems leadership, and other essential areas. Students are required to complete a minimum of 500 clinical practicum hours throughout the DNP program. A DNP Project is the culminating work.
The DNP program is a cohort model completed in 8 semesters (Fall and Spring Semesters). All coursework is online except the first course, NSG 701 Transition to Doctoral Studies, a 1-credit hybrid class with a one-day on-campus requirement at the start of the course.
Program eligibility will be individually determined based on transcript evaluation, credentials, national certification, and personal interview.
Please check the Graduate Catalog for complete descriptions of the DNP curriculum, courses, requirements and program outcomes.
Please read the American Association of Colleges of Nursing's recommendation on the DNP degree .
DNP Admission Requirements
Applicants must have an earned master's degree in nursing in an advanced nursing specialty from a nationally accredited program. The definition of advanced practice nursing is a direct care specialization (e.g., nurse practitioner, clinical nurse specialist, nurse anesthetist, nurse midwife) or indirect care specialization (e.g., nursing administration, nursing informatics).
Advanced Practice Nurses must be certified by a nationally recognized certifying agency (e.g., ANCC or AANP).
Proof of advanced practice certification.
Transcripts representing all previously completed coursework.
A GPA of at least 3.0 (on a 4-point scale) in a master's program is required and course work, including a graduate-level research course and an undergraduate or graduate-level statistics course.
Provide a copy of the Registered Nurse license from the applicant's state of practice.
A writing sample that is a minimum of 3-4 pages on the topic "Why the DNP"
Two reference letters that address the applicant's academic ability and professional competence.
Applicants with complete admission packets will complete a telephone or in-person interview with the Program Coordinator for admission to the program.
Accreditation

The Doctor of Nursing Practice (DNP) program at West Chester University are accredited by the Commission on Collegiate Nursing Education, 655 K Street NW, Suite 750, Washington, DC 20001, 202-887-6791. http://www.ccneaccreditation.org
Apply Now
Contact Information
Jacquelyn Owens DNP, CRNP, FNP-BC
Department of Nursing
Graduate Coordinator
West Chester University
JOwens@wcupa.edu
Welcome to our Fall 2023 DNP Cohort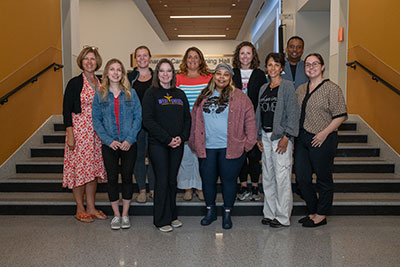 Full-time DNP course sequencing
Back to top of page.