Graduation and Commencement: Electronic Diplomas
Certified Electronic Diplomas (CeDiplomas)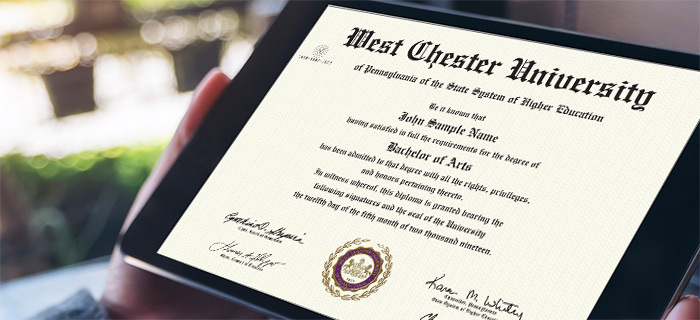 ORDER/RESERVE in myWCU!
Available for the May 2015 and AFTER graduating classes!
KEY BENEFITS
Watch an overview video to learn more!
More than a paper credential

An official, secure and verifiable PDF version of your accomplishment!

Different from a transcript

Unlimited sharing with family, friends, employers and social media.
Proof of education with only the important details.
Simple for employers to read and understand.

Better than an eDiploma

Each credential provides a unique 12-digit CeDiD*.
The CeDiD allows for instant proof of your accomplishment using Validation Services.

Enhances your resume

Expedite the verification process by providing your CeDiD and validation URL on your resume.
*CeDiD (Certified Electronic Document Identifier)
Highly secure
Each CeDiploma and CeCertificate can be independently validated by future employers, state government licensing agencies and any other entity that wishes to validate your achievement
The document is digitally signed and encrypted, providing greater trust and acceptance
For security reasons, the electronic credential cannot be printed
Please Note: A credential may not be available for all conferral dates.
For additional information about the Certified Electronic Credential and its features, please visit cecredentialtrust.com.
© 2018 ✦ CeCredential Trust®, CeDiploma®, CeCertificate® and CeDiD® are registered trademarks ✦ CeCredential™ and TruSeal™ are trademarks. Validation Services is patent pending.
At this time, only May 2015 and AFTER graduates will be able to reserve or purchase a CeDiploma in myWCU.
The cost is $10.95 and you can make multiple copies of the file on all your devices (e.g., computer, tablet, smartphone).
To Order in myWCU
Orders: When you receive the email stating your paper diploma has been mailed, you will then be able to purchase and download your CeDiploma. Upon receipt of that email, a CeDiploma link will be available in your myWCU account. Click on that link and follow the ordering instructions.
Reservations: If you are eligible for a CeDiploma, you will have the option to reserve a CeDiploma in myWCU. Making a reservation does not obligate you to purchase. You will be asked to provide your preferred contact information. When your CeDiploma is available for purchase, after your degree has been conferred, you will be notified.
Downloading your CeDiploma
After ordering, you have 90 days to download as many times as you'd like without having to repay. After 90 days, you will need to pay the $10.95 fee again.
A West Chester University CeDiploma can be validated online one of two ways:
Digital Signature: All electronic diplomas from West Chester University have been digitally signed by CeCredential Trust and therefore contain special characteristics. When the document is viewed through Adobe Reader versions 9.0 or higher or through Adobe Acrobat versions 9.0 or higher, it will reveal that a Digital Signature has been applied to the document.

Adobe Reader and Acrobat use a blue ribbon across the top of the document to indicate document authenticity and validity.

Attention Mac users: When viewing an official electronic diploma from West Chester University, the software utilizes Adobe's secure certified PDF technology and therefore may only be viewed using the free Adobe Reader or Adobe Acrobat 7.0 or higher. The default Mac preview application will not display the document correctly.
For more information on digital signatures, authentication, and validation, see section on "How Do I Validate a CeDiploma from West Chester University?"
Back to top of page.