Success Starts Here - Joseph LaManna
WCU Cultivates Leaders, Thinkers & Doers
WCU Senior Serving as First Responder in New York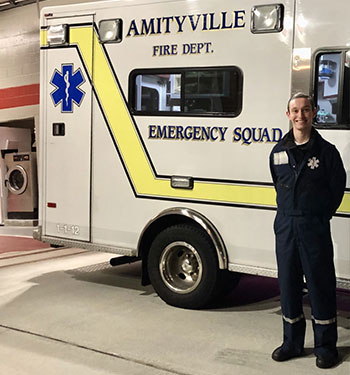 Joseph LaManna devotes countless hours to EMS work.
W


hen West Chester University moved to alternate forms of instruction in March, criminal justice major Joseph LaManna had to prepare for his first experience with online learning and make plans to get his belongings back home. While other students shared these same concerns, LaManna's biggest priority was not typical – he was determined to get out there and start helping people.
As a volunteer emergency squad member for the Amityville Fire Dept. and a paid dispatcher/first responder for the Brentwood Legion Ambulance Co., both on Long Island, LaManna worked 12 hours every day, with few exceptions, from mid-March to mid-May.
LaManna, in middle, at a fall luncheon for transfer students.
"Joe is a hard worker and is always willing to help where he can. I know if there is a job to do Joe is not far behind," says Rob Waegerle, chief of the Amityville Fire Dept.
"At the worst of it, I was putting in 16-hour days," says LaManna. "I remember one particularly bad patch where I went on 65 runs in 18 hours. But things have slowed down dramatically in recent weeks," he says. "I think New York has done a good job of flattening the curve. Lately, we're getting suspected heart attacks or falls or other injuries – the typical reasons people have always called for an ambulance."
Serving as a first responder is nothing new for LaManna. He has been a member of Amityville Fire Dept. for four years and was just 10 when he decided to become a junior firefighter. He also is the chief engineer for West Chester University's emergency medical services unit - Quick Response Service 58.
"No one in my family is an EMT or firefighter; I'm not sure where I got this from," says LaManna. "But it's what I've always wanted to do."
With the New York metropolitan area hit hard by COVID-19; he witnessed much tragedy, as well as some happy endings, too. "It's always great when you hear that a patient you brought into the ER recovered and went home," he says.
Although LaManna is 21, you might say he has an old soul. He often has to call upon this innate wisdom and maturity when he goes out on a call.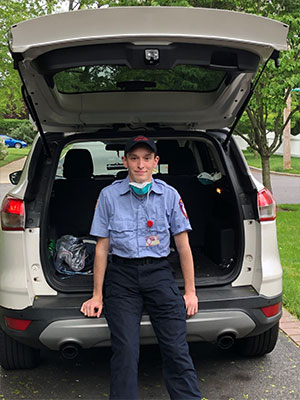 "After we took one patient's vitals and assessed the gravity of the situation, I let the woman's husband know it was time to say goodbye," says LaManna. "Initially, he didn't grasp what I meant. He kept saying, 'No, I'll be here when she gets back.'"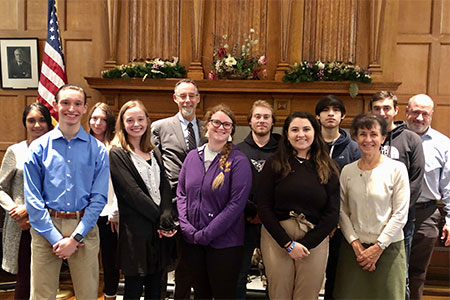 LaManna, second from left, with other transfer students and President Fiorentino and transfer concierge Scott Yannick, far right.
"Hard as it was, I had to let him know that this was his last chance to say all the things he wanted to say to his wife."
A rising senior, LaManna transferred to WCU last fall and made his mark quickly. In addition to his EMS work on campus, he is a deejay for the University's radio station, WCUR, and a University Ambassador for the Office of Admissions.
Department of Criminal Justice chair Mary Brewster serves as LaManna's academic advisor and originally hails from Brentwood, one of the two towns that he serves. She checked in with him frequently during the semester, a gesture LaManna says that he appreciated.
"Each time we spoke during the semester, I was so impressed by Joseph's extraordinarily positive attitude, commitment to serving his community and drive to do well academically," says Brewster.
Joy Dvornicich, an adjunct professor in the Department of Criminal Justice, also has been impressed with LaManna, particularly in his ability to juggle so much at one time.
"I taught emergency management this spring and immediately I knew Joseph would be an outstanding student," says Dvornicich. "In one of our in-class exercises, I assigned him the position of incident commander in charge of responding to a pandemic at WCU. Neither of us could guess we would be dealing with this disaster in real time."
"I am sure Joseph was overworked and overtired. He was dealing with the pandemic first-hand and added to that was the pressure of coursework on a new platform and in a shortened timeframe. But not once did Joseph give me an excuse or fail to keep me apprised of his situation. He never complained of all he had to do, he just did it."
Back to top of page.