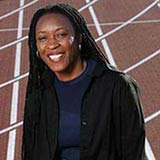 Dr. Margaret Ottley, Ph.D., NCC, CMPC., Fellow-AASP
Professor, Sports Psychology
MOttley@wcupa.edu
Dr. Margaret Ottley is a Professor of Sport & Exercise Psychology at West Chester University (WCU). She received her Ph.D. and MA degree from Temple University in Sport & Exercise Psychology, a second MS in Clinical Mental Health Counseling (WCU), and a BA degree from Spelman College in Child Development & Family Studies. She completed her post-doctoral training at Purdue University focusing on Curriculum and Instruction in physical education. She is an Association for Applied Sport Psychology (AASP) Fellow and Certified Mental Performance Consultant (CMPC). She is also a National Certified Counselor (NCC) in the field of clinical mental health.
Dr. Ottley competed in field hockey at Caribbean regional and international levels for the Republic of Trinidad and Tobago (RTT) for a period in excess of 14 years. She is the founder and Chair of SanKofa HP (HyPower Performance) LLC, Head In The Game, which provides culturally specific mental performance training to a diverse number of athletes and sport practitioners. As the Anglo-Caribbean's first sport psychology consultant, Dr. Ottley was commissioned by the Trinidad and Tobago Ministry of Sports (2009-2013), to implemented two 3-year national sport psychology programs for sport administrators, coaches, and elite athletes.
Dr. Ottley, also held Caribbean Sport Psychology Conferences in 2010, 2011 and 2013. She traveled with medical teams and also worked with many sporting bodies—track & field, cycling, boxing, gymnastics, shooting, swimming sailing, rugby, netball, soccer and field hockey. She did four Olympic Games (2004, 2008, 2012, 2016) and a number of Commonwealth and IAAF sanctioned games, since 2002. In 2008, she was the sport psychology consultant for USA Track and Field's Beijing Olympic team. She also serviced USATF at other international games—world youth, world juniors and Pan Junior American Games (2005-2008; 2017/2019). For the RTT, Dr Ottley traveled to three Olympics in 2004, 2012 and 2016. She's also worked with RTT's national women's soccer (CONCACAF and World Cup Qualifier) teams as well as the U-19 cricket teams.
Dr. Ottley is also the mental performance and wellness consultant for the National Scholastics Athletic Foundation's (NSAF) National Indoor and Outdoor Youth Championships (track & field), Caribbean Invitational Scholastic Games, javelin and triple jump projects in the US and Cuba. She is on the board of the Black Women in Sport Foundation (BWSF) and co-author of the companion Mentoring Manual for the highly acclaimed BWSF's Amazing Grace documentary. Amazing Grace - Black Women in Sport Foundation. In 2016, she had the honor of working on DOVE's "My Beauty My Say" campaign as the mental performance consultant.
During the ongoing Covid-19 pandemic, Dr. Ottley has participated in a number of virtual forums and summits such as BWSF "Self-care, Resilience & Mental Wellness During Crisis," NSAF's "Eight Lanes of Conversation," and "Athletes Performance Mastery Summit," the British Virgin Islands' "Sport Psychology: The Mental Approach to On-Field Success," a series of wellness and team cohesion training sessions with collegiate student athletes, and USATF's mental performance webinar series leading up to the Tokyo Olympics, 2021." She was also the mental performance consultant for the 2020 Great Ocean Race Summit, a forum that promotes ocean health and sailing's greatest round-the-world challenge.
Her research, inspired by her humble upbringing in a small coastal village in Trinidad, focuses on the comfort zone and the phenomenological embodiment that powers expressive individualism and mastery. The work, rooted in African movement aesthetics and spirituality, exceeds the understanding of form and function in elite sport performance. She is a Reiki Master and her favorite pastime is playing Capoeira Angola .
Back to top of page.