WELCOME TO THE EARTH AND SPACE SCIENCES DEPARTMENT!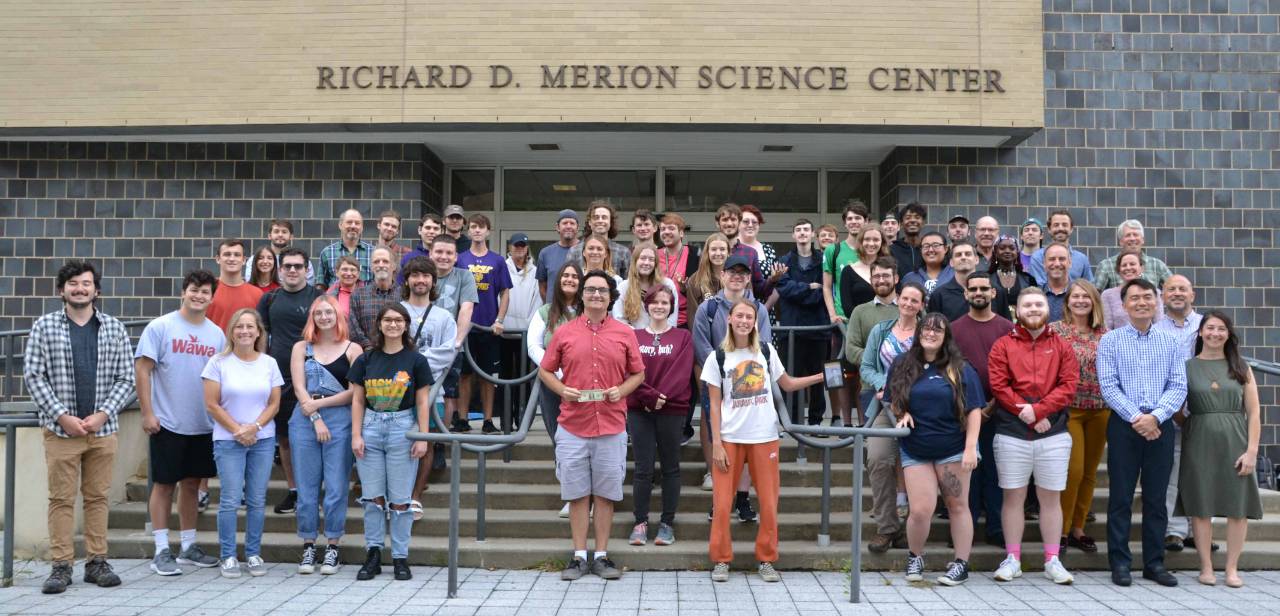 The Department of Earth and Space Sciences prepares students for rewarding careers in geoscience and education. We offer a Bachelor of Science (B.S.) in Geoscience in two concentrations (Geology and Earth Systems) as well as a teaching certification program with a Bachelor of Science in Education (B.S.Ed.) in Earth and Space Sciences, which is housed in the Department of Secondary Education. We also offer a Master of Science (M.S.) degree in Geoscience that is tailored for the professional development of geologists and pre-college teachers. Check out our multiple minors as well!
What's Currently Going On in the Department?
We Offer:
Many different types of

equipment and facilities for students to use

There are many facilities in the Department of Earth & Space Sciences available to students. These range in nature from student study areas to extensive sample collections to high-tech research equipment. On the second floor of the Merion Science Center is a student computer lab. The computer lab hosts 16 desktop computers, a printer and scanner. We also have over 100 laptop computers for students in classes. Our computers have University multi-site licenses for software including the Adobe Creative Suite, ArcGIS, MATLAB, SAS, and more. The student lounge functions as a library and a place for students to gather and work on projects.
The Department has three (3) research UAVs used for a range of geological and meteorological research projects as well as our ESS 480 "Drones" course, where students acquire hands-on experience in maneuvering five (5) small Hubsan 107L drones. Several department faculty and students have earned FAA UAS licensure. Our drones are capable of performing high-resolution aerial mapping, 3-dimensional photogrammetry and DEM generation, thermal and multispectral imaging, and carrying a wide-variety of scientific payloads including magnetometers, meteorological instrumentation, sub-aqueous sonar, gamma ray detectors, multi-gas meters, and pressure transducers. Our drone equipment includes: DJI Matrice 600 Pro sUAS, DJI Mavic Pro Platinum sUAS, DJI Inspire 1 sUAS, Zenmuse XT2 Thermal Imaging Camera, Zenmuse X5 EO Camera, Zenmuse X3 EO Camera, MicaSense Rededge M Multispectral Camera.

Courses that build career skills: problem-solving, teamwork, field work, data analysis, written/oral communication, and cutting-edge training on scientific instruments
Flexible curriculum with opportunities for independent study research and internships for credit
A solid foundation for a career in the environmental industry, geology, or teaching in secondary schools
A faculty of nationally-known scholars who involve students in a variety of research projects
A large alumni network of professional geologists and teachers in the Philadelphia Region
An Earth and Space Science Club, Sigma Gamma Epsilon (The Geology Honors Society), plus participation in WCU's Women in Science and Astronomy Clubs.
Graduate assistantships (GAs), scholarships, travel and research grants available each semester
A friendly, nurturing, and exciting place that prides itself on personalized attention to our students!
Career opportunities in Geoscience are EXCELLENT!
---
Alumni Spotlight
Name: Beatrice O'Hara

WCU Degree: M.S Geoscience, GIS Graduate Certification, 2017

Current Location: Exton, PA

Occupation: Wetland Specialist

West Chester University has been a part of the fabric of my life since childhood and holds a special place in my heart. When I was ready to launch a second career, I did not hesitate to return to WCU. I admit that I was a bit apprehensive at first about entering their Geoscience Master's program as a non-traditional student, but those apprehensions dissolved. The entire faculty was welcoming and encouraging and the students were friendly and supportive.

The program, while providing a broad-based curriculum, also allowed for customization towards specific research interests. While at the university, I became deeply involved in research focused on environmental impacts on the coastal system of the Delaware Bay and spent a great deal of time in the field and in the lab. While researching different aspects of the resiliency of the carbon cycle of coastal salt marshes, and presenting results at various professional meetings, I had the opportunity to network with professionals, members of grass-root groups, environmental enthusiasts and concern citizens with whom I share the same interests and commitment to improving the current state of our coast, wetlands and estuaries. In addition to presenting at conferences, I gained experience writing reports, research papers, and grant proposals.

The skills, experiences, and opportunities gained through my time in WCU's Earth and Space Sciences Geoscience Master's Program, and the Geography Department's GIS Graduate Certification Program, equipped me to land my dream job and to continue research, presentation and outreach on the Delaware Estuary's Wetlands. I am forever grateful to their faculty, especially Dr. Daria Nikitina.

Name: Daniel Bochiocchio, Class of 2017

WCU Degree: M.S. Geoscience

Current Location: West Chester, PA

Occupation: Geoscientist-In-Training, Drone Pilot

The initiative to purchase drones allowed me to pursue a new skill that has advanced my career progress three-fold. Given the resources from West Chester University Earth and Space Sciences I was given the opportunity to learn the steps of acquiring new data collection tools, learn to apply them to my field of interest, and continue to capitalize on that value by starting my own business using the skills I had learned. If not for this experience at WCU I would not have learned a new skill set, started a successful business, and moved myself to a higher position within a new company that would have required three-times the amount of time spent in a traditional career track to reach my current level.

Name: Malcolm Morris

WCU Degree: B.S Geoscience: Geology Concentration 2016

Current Location: Upper Darby, PA

Occupation: Field Technician, Groundwater & Environmental Services (GES).

The faculty at WCU helped me to attain my degree in a field I am passionate about. More than that, they have instilled in me life lessons and experiences which I will cherish years after my graduation. I must stress the importance of a college education, not only for facilitating your potential career, but for the advancement of your mind. With that said I wholeheartedly recommend any prospective students to consider an education with West Chester University.
Department Overview
Department of Earth and Space Sciences
---
Recent Research Presentations
Geoscience Graduate students Katie Dowling presented a Poster at GSA Connects 2021, Geological Society of America Annual Meeting in Portland, OR.
"GEOARCHAEOLOGICAL EXAMINATION OF THE EAST POINT ARCHAEOLOGICAL DISTRICT, NEW JERSEY."
DOWLING, Katherine1, WHOLEY, Heather2, NIKITINA, Daria1, KNIGHT, Cameron1, SULLIVAN, Jacob2 and KAISER, Joan1, (1)Earth and Space Sciences, West Chester University of Pennsylvania, 700 S High St, West Chester, PA 19383, (2)Anthropology and Sociology, West Chester University of Pennsylvania, West Chester, PA 19383
Dr. Nikitina presented:
GEOARCHAEOLOGY OF DYNAMIC LANDSCAPES: SITE DISCOVERIES, INVESTIGATIONS AND FUTURE PROJECTIONS FOR COASTAL DELAWARE, USA
NIKITINA, Daria1, WHOLEY, Heather2, POWERS, Michael3 and DOWLING, Katherine1, (1)Earth and Space Sciences, West Chester University of Pennsylvania, 207 Merion Science Center, West Chester, PA 19383, (2)Anthropology and Sociology, West Chester University of
Dr. Nikitina co-authored:
GEOARCHAEOLOGICAL APPROACHES TO CULTURAL RESOURCES MANAGEMENT IN THE MURDERKILL WATERSHED: DELAWARE BAY, MID-ATLANTIC USA
WHOLEY, Heather1, NIKITINA, Daria2 and BURGOYNE, Rachael2, (1)Anthropology and Sociology, West Chester University of Pennsylvania, West Chester, PA 19383, (2)Earth and Space Sciences, West Chester University of Pennsylvania, 207 Merion Science Center, West Chester, PA 19383
---
Come join our community and plan a rewarding career to make the world a more sustainable place for the future! For more information, contact the Department Chairperson, Dr. Hal Bosbyshell (hbosbyshell@wcupa.edu), or Joan Kaiser (jkaiser@wcupa.edu), Administrative Assistant, at 610-436-2727.
Back to top of page.