New Arts & Humanities Faculty Member Recognized with "40 Under 40" Honor
Assistant Professor of Digital and Global Media, Jeremy C. McCool, may be new to West Chester University, but he is certainly not new to innovative teaching methods that challenge and motivate young minds.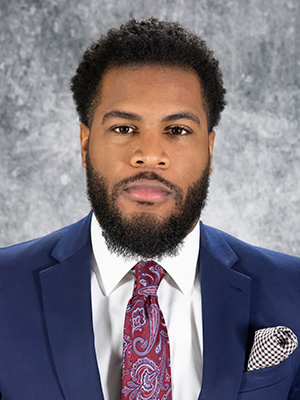 McCool, who was recently named by Pittsburgh Magazine as a "40 Under 40" Honoree, is originally from Chicago, and earned both a bachelor's and master's degree from Western Illinois University in Broadcast Journalism and Communications, respectively. He went on to earn a Ph.D. from Indiana University of Pennsylvania (IUP) in Communication Media and Instructional Technology, all the while teaching courses to undergraduates.
At the ripe old age of 27, McCool has amassed a lifetime of accomplishments. At 17, he co-hosted a radio morning show at Western Illinois University. At 18, he was the station's Music Director. He later interned at 99.1 WSMK in Niles, Michigan. His work in radio motivated his dissertation research, which examines how different races perceive socially conscious hip hop music. He co-authors a children's book series. His first book, Princess and The Power of Melanin, was released in December of 2018, and helps combat prejudice through the story of a young girl who learns that melanin is one of her superpowers because it protects her from the sun. Its sequel, The Adventures of Darius the Hall Monitor, will be released this holiday season, and is about a young boy who overcomes a bully.
McCool is also a mentor and co-advised a minority male mentorship group initiative at IUP. He hopes to continue that work here at West Chester.
McCool says, "Mentoring of black students and youth is very important to me. There are few black male faculty members and representation is important. I am big on helping all students accomplish their goals."
McCool has also written op-ed articles for Diverse Issues in Higher Education.
At West Chester University, McCool will teach Media Technology, Public Speaking, and Digital Storytelling, a class he created while teaching at IUP.
McCool says, "When I worked in radio, media entrepreneurship was not being taught, but growing. I saw a need to teach students about podcasting, media entrepreneurship, blogging and YouTube."
McCool gives students the freedom to use their individual interests to create podcast content as diverse as Disney conspiracy theories, wrestling, music, and sports shows.
"Some of my students' podcasts are still active," says McCool. The class teaches production elements, how to find a niche, and audience engagement and promotion for their shows."
"We are living in a great era for creatives," says McCool. "Media personalities used to be only on commercial radio and TV. Now, more voices than ever can be heard."
Learn more about Digital & Global Media at West Chester University


Back to top of page.