Alternative Break Trips
2019 Spring Break Trips
Addressing Issues of Affordable Housing with Habitat for Humanity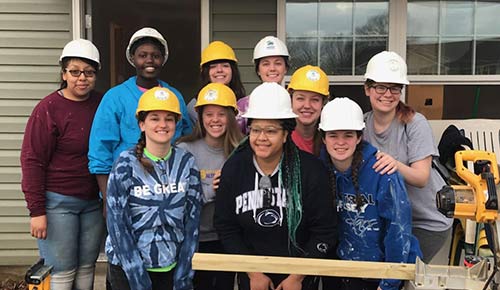 In partnership with Habitat for Humanity, WCU students participating in this trip will travel to build affordable houses for families living with a low-income or facing significant financial challenges.
Students will be partnering with a locally run affiliate of Habitat for Humanity International, a non-profit, ecumenical Christian housing organization that works in partnership with people to build simple, affordable, energy-efficient houses. Habitat for Humanity sells the houses that are built at cost (no profit) with no interest charged to low-income families who qualify. Students on this trip will work alongside local community members and future homeowners to provide affordable housing options for those affected by poverty in the south, while also learning about the causes of issues of affordable housing through community engagement activities.
Trip Leader
Gabrielle Mason
Advocating for Women's Rights through Political Engagement in Washington DC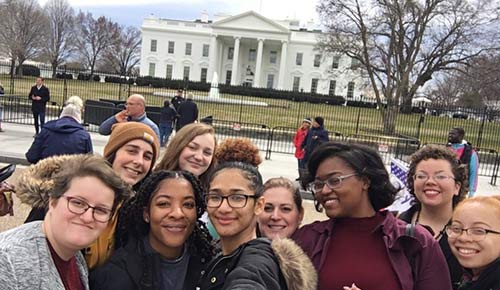 Serving the LGBTQ Community Impacted by HIV/AIDS in Pittsburgh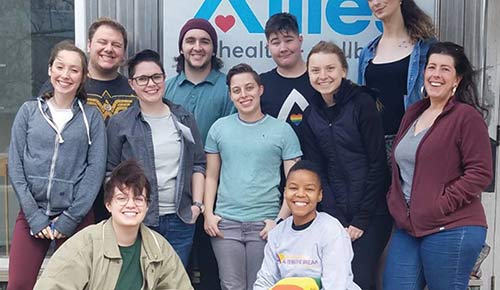 Students will unite to educate the community about preventing the spread of HIV/AIDS, serve individuals living with and affected by HIV and AIDS, and learn how sexual health intersects with homelessness in Pittsburgh, PA by working with the Allies for Health + Wellbeing and other local organizations serving LGBTQ+ individuals.
Currently, over 1 million Americans are living with HIV. One out of five people do not know they are infected, which greatly contributes to the 50,000 new cases every year. Historically HIV has disproportionately impacted segments of the LGBTQ community, and that could continue when considering the 40% of homeless youth who identify as LGBTQ. During the week of service, the group will work to increase public awareness of HIV/AIDS and educate the community about the importance of sexual health and diminishing the stigma associated with HIV/AIDS. The group will also address the alarming LGBTQ homelessness rate by volunteering with shelters whose mission is to serve that population in Pittsburgh.
Trip Leader
Payton Roberts
Empowering Youth through Financial Literacy Education with Junior Achievement in NYC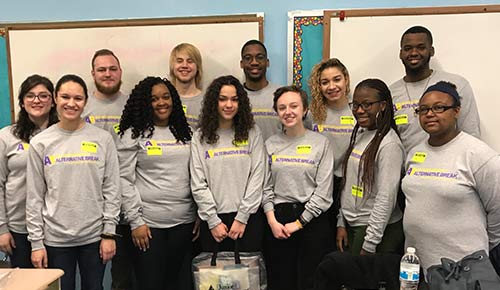 WCU Students participating on this trip will work with Junior Achievement of NYC to engage children in local schools through academic enrichment activities that improve social skill development, self-esteem, and civic engagement.
Junior Achievement of New York's mission is to inspire and prepare young people to succeed in a global economy. Junior Achievement of NYC is the local affiliate of Junior Achievement USA, the nation's largest organization dedicated to providing students with work readiness, entrepreneurship, and financial literacy education. Participants of this trip will teach lessons in classrooms spanning K-12 students through curriculum, activities, and games. Each lesson will focus on exposing children to such life skills as budgeting, teamwork, and communication while learning about their local and national economies.
Trip Leaders
Marissa Vernoia
and
Elise Jackson
2019 Summer Trips
Creating Sustainable Food Resources in Urban Communities with PHS in Philadelphia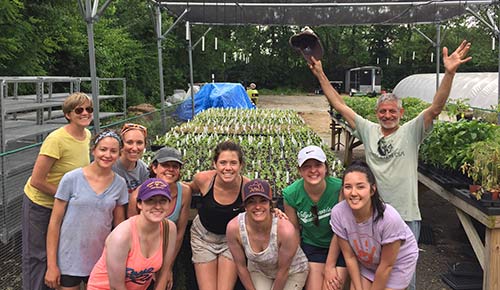 Through community gardening and education in Philadelphia, PA, students on this trip will explore connections between areas of poverty and urban food deserts while also working to promote civic empowerment of both trip participants and community members.
During the week of service, the group will support urban gardening programs including Pennsylvania Horticultural Society's (PHS) City Harvest program and the East Park Revitalization Alliance's (EPRA) community gardens in Strawberry Mansion. Students will help prepare seedlings for distribution to over 130 urban farms and gardens throughout the city. Participating growers distribute the fresh produce in their communities, through food cupboard donations and at farmers markets. Students will also work directly in gardens to prepare them for spring planting.
Summer Alternative Break: May 2020
Trip Leader
Mik Deiter
Guatemala Cross-Educational Experience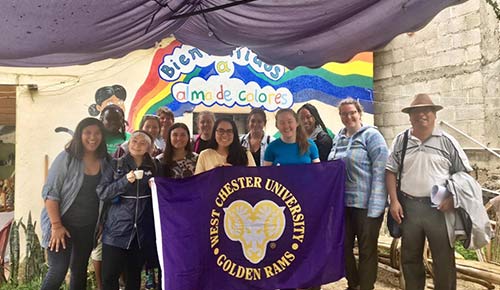 This non-credit international service-learning experience is open to students across the university interested in fostering a sense of civic responsibility, social justice, community involvement, exposure to local culture and language and to create an opportunity to broaden their global perspective and identity. Within indigenous villages surrounding Lago de Atitlan in Guatemala, students will have an opportunity to actively engage in the community to make a direct impact on members with varying cognitive, physical, and developmental disabilities. WCU participants will be partnering with local schools and agencies to implement activities and facilitate events. Students will be culturally immersed throughout this 13- day experience, as they will be accommodated in homestays and participate in Mayan Ceremonies!
Summer Alternative Break: May 18 - 31, 2019
Trip Leader: Lena Morella
Back to top of page.