Alternative Break Trip Leaders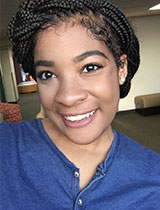 India Washington
Hello! I'm India Washington and I'm a senior Nutrition major with a minor in Biology. Outside of the Alternative Break Program, I can proudly say that I am involved in the Gospel Ministries Dance Ministries, Angels of Divinity (AOD) as a praise dancer, and I'm a member of the Golden Rams Society. When I'm not making horrible science puns...periodically, I'm always trying or cooking new foods, and I love reading books both fiction and nonfiction that empower such a complex character as myself. I am always looking for new ways to improve and educate myself to promote growth. I'm so excited and thankful to be co-leading the Women's Rights through Political Engagement trip for another year because I love listening and learning from other people's perspectives. If you are looking to join the conversation, educate, and reflect on issues happening in our communities across the world please apply; you will not be disappointed!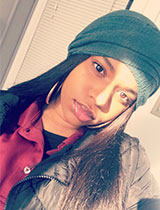 Aaisha Williams
Howdy! My name is Aaisha Williams, I am a Psychology major with a minor concentration in Women and Gender Studies. For the 2019-2020 school year I will be a fourth year student, serving as the President of Wahala African Dance Team and a former member of D.R.E.A.M. I serve as an advocate for youth and women in my local community; to name a few ventures I have participated in I am a continuous volunteer for Ummi's Youth Group for Girls in Yeadon and Darby Borough, I annually volunteer for Alex's Lemonade Stand Foundation during the Lemon Run, and I continuously work with local Philadelphia State Representatives to help expand voters education. I will be co-leading the trip to Washington D.C which will primarily focus on Women's Rights and Political Engagements. I'm no politician but understanding the laws governing the rights of women helps us get a step closer to having a diverse community, accepting all people and creating endless equality. If you have a desire to engage in this conversation, apply for this trip!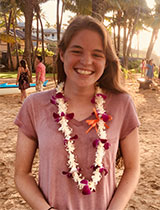 Gabrielle Mason
Hi! My name is Gabrielle Mason and I am a third year Middle Grades Education major. Outside of the Alternative Break Program I am a part of the 2019 Orientation Team. In my free time I love to volunteer, especially with hands-on work. I realized this when I was on the Addressing Issues of Affordable Housing with Habitat for Humanity trip the last two years, which I am leading this year. This program has done so much for me throughout my time here at WCU and I would love for you to have the same experience. I cannot wait to meet you!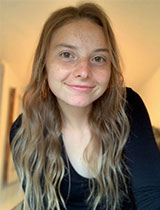 Payton Roberts
My name is Payton Roberts and I'm a third year psychology major! Outside of Alternative Break, I'm a member of Phi Sigma Pi National Honor Fraternity on campus. I'm leading the Pittsburgh trip to advocate for the LGBTQ+ community who are affected by HIV/AIDS. This trip is important because there a lot of people affected by HIV/AIDS and it is important to raise awareness and education on prevention and treatment. I had the opportunity to go on this trip last spring break and I had an amazing time interacting with the organizations that we got to work with. I can't wait to be the leader this time around and give others the opportunity to make such an important impact! My experience with the Alternative Break Program has been amazing and I encourage you to start your journey and apply for this trip!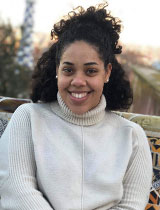 Elise Jackson
Hello/Hola! My name is Elise Jackson, and I'm a senior English Literature major with a minor in Youth Empowerment and Urban Studies! I was born and raised in Reading, Pennsylvania. Originally, I attended West Chester University to become an English teacher but becoming a Guidance Counselor caught my interest more! On campus, I support several organizations, significantly, Black Student Union, IMPACT Movement, and Student Activities Council. Also, for the past two years I have worked as a Resident Assistant for Goshen Hall and work as one currently. I love to travel and try new things like foods, music, and learning about other cultures! I volunteered abroad in San Jose, Costa Rica during the summer of 2018 and I am so glad to say Spain and Italy are now stamped in my passport! Since traveling has become a recent love of mine, giving back and growing as an individual has always been my first. I'm so excited and honored to be co-leading the Empowering Youth through Financial Literacy Education with Junior Achievement in NYC trip this year. It will provide students with skills for future work readiness, financial literary education, entrepreneurship and more. Please, if you are interested in joining this trip, contact me!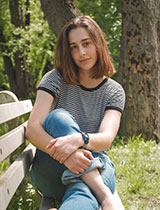 Mikayla Deiter
Welcome to the best thing on West Chester's campus. The Alternative Break program is where you can do hands-on service, learn new skills, and meet friends from all over the university. A little bit about me: My name is Mikayla Deiter and I am a senior majoring in Secondary English Education with a minor in Youth Empowerment & Urban Studies. In my free time, I love lacing up my roller skates and going around town. This will be the fourth year I have been doing AB, and last year I had the privilege of leading the Women's Rights and Political Engagement trip. If you are looking to get a little dirty and spring break isn't possible for you, join me on the Sustainable Food Sources in Urban Communities in Philadelphia this summer!
Back to top of page.