Frequently Asked Questions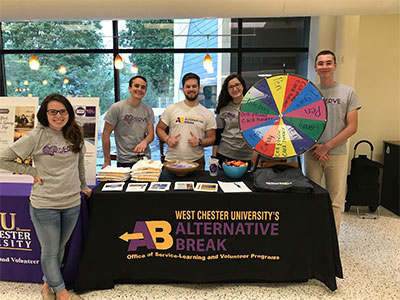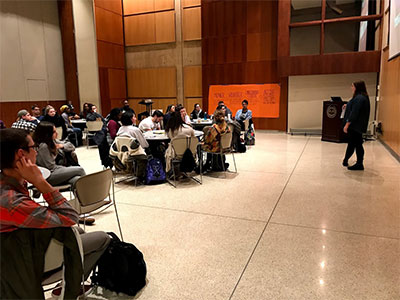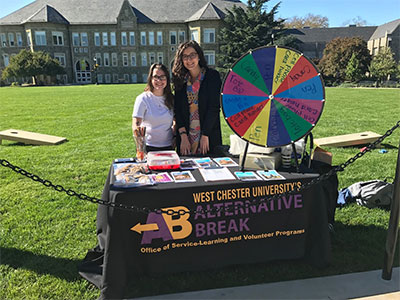 The Alternative Break (AB) Program is a year-long community engagement experience that develops active citizens by immersing students in service trips during university break periods. Each trip focuses on addressing a prevalent social issue impacting the community where students will travel, such as housing insecurity, public health advocacy, political engagement and activism, youth empowerment, and more! See what trips will be offered this year.
This program is a year-long experience, including programming before, during, and after the Alternative Break trip. Students going on a spring break trip meet their team in early November, forming friendships to last a lifetime. Leading up to their alternative break trip, students engage in local pre-trip service opportunities, attend weekly pre-trip meetings to learn about the social issue and community where they will serve, and organize fundraisers to lower the costs of the trip. After the trip, the team comes back together to reflect on the experience and plan your next steps to continue their journey as active citizens. Additionally, students from each trip participate in program-wide events throughout the year to unite as a movement and learn from each other's stories of service.
Domestic Trips
Students can apply in the "Office of Service-Learning and Volunteer Programs" portal under the "Forms" section or click the button on our website for a direct link to the application. Participant applications for domestic spring break trips will become available on September 4, 2018 and are due October 15, 2018. After applying, students will be invited to interview with a Trip Leader to learn more about the program and share which trip(s) interest them most. Applicants will be notified whether or not they are selected to attend a domestic spring break trip in early November. The domestic summer Alternative Break trip application will open later during the fall semester.
Spots are limited on each trip, but there is a waitlist option for domestic trips when there is not enough room to offer every qualified student a spot in the program. Students are asked to accept a position on the waitlist under the condition that if someone is no longer able to attend a trip, the Trip Leader will offer the opportunity to a student on the waitlist. Each year, there are participants who experience unexpected circumstances and ultimately leave the program, opening spots on each trip for students on the waitlist; so trust us that the waitlist is a great option!
International Trips
International Alternative Break trip applications will become available on the Global Engagement Office (GEO) website during the fall semester. Stay tuned for more information about International Alternative Break trips!
When a student applies, they will rank the trips being offered in order of interest. Next, applicants are invited to interview with a student Trip Leader to hear more about the program. When they are interviewed, the Trip Leader will talk to the student about their preferences, which helps the selection team make decisions about which trip each student is a perfect fit for! Most often, students are selected to participate in their first, second or third choice.
Come meet our Trip Leaders and learn more about this amazing program at our information sessions or visit our table at fairs on campus!
Information Sessions: Come out and hear about the Alternative Break experience from Trip Leaders, past participants, and OSLVP staff!
Dates TBD!
Volunteer Fair: Wednesday, October 2nd from 11am-2pm in Sykes Ballrooms
Stop by the Volunteer Fair to learn about what service opportunities there are for you in West Chester, and come visit us at the Alternative Break table to learn more!
Alternative Break Showcase: Wednesday, October 9th from 11am-1pm in Sykes
Come visit us table in Sykes to meet our Trip Leaders and hear more about our spring and summer trips! Prizes available!
Each trip's cost varies based on its destination. When developing the cost of each trip, we factor in all transportation, housing, food purchases, and supplies your group will need to make your trip amazing! Since each trip is located in a different city and the mode of transportation varies per trip, your cost will be dependent on the trip you are chosen for. On average, domestic Alternative Break trips cost approximately $300 per person (before fundraising). However, scholarships may be available and each team will engage in fundraising efforts to lower the cost of their trip.
The Global Engagement Office (GEO) develops the international alternative break trips in collaboration with our office. On average, these trips cost approximately $2,500-$3,500 depending on the destination and other factors you must consider including (but not limited to) insurance, flights, vaccines, meals, and housing.
Back to top of page.