M.S. IN TRANSFORMATIVE URBAN EDUCATION AND SOCIAL CHANGE
We are proud to provide a M.S. degree in Transformative Urban Education and Social Change (TESC) that seeks to support educators in the examination of the transformative potential of teaching and learning. Candidates in the program will be given the opportunity to reflect on their own experiences, analyze the issues confronting contemporary education and society, and explore justice-oriented frameworks in order to build a better educational vision for the future. This cohort-based program is ideal for K-12 teachers, community-based educators, and community organizers who are committed to diversity, access, inclusion, and justice in a variety of contexts (suburban, urban, and rural).
If you are interested in examining the transformative potential of education within urban contexts, developing empowering and impactful teaching methods, and creating inspiring and meaningful educational programs, then the Master of Science in Transformative Urban Education and Social Change (TESC) Philadelphia is for you!
Our TESC-Philly program centers on a critical action research project that encourages our students to create solutions to issues they see within their own teaching environments.
This cohort-based program is for justice-oriented educators and community members who seek to have a positive, meaningful, and critical impact on students and the world we all share with them. You'll find a flexible and supportive learning environment at our Philadelphia Center with advisors who will work with you directly to customize your degree. Faculty in the program draw on a variety of areas of interest including: Critical Pedagogy, Culturally Relevant/Culturally Responsive/Culturally Sustaining Pedagogies, Critical Race and Racial Justice Frameworks, and much more. Graduates of the program apply their research directly to their own classrooms, school districts, and communities to make a positive impact. Learn more about the Faucet Scholarship.

With warmest regards,
Jason Wozniak
Co-Coordinators of TESC Program
Main & Philadelphia Programs
PROGRAM HIGHLIGHTS:
Coursework meets level II teacher certification requirements
Graduate certificate available in Urban Education
Evening classes for adult learners
Affordable tuition with additional scholarships and graduate assistantships available
Courses taught by internationally recognized professors who are committed scholars and activists in their respective fields
Convenient location at West Chester University's Philadelphia Center (700 Market Street)
Program provides an excellent foundation for study at the doctoral level
Application Procedure
Applicants for the M.S.* are expected to have:
An undergraduate degree from an accredited college or university
An undergraduate degree GPA of 3.0 on a 4.0 scale. (If an applicant possesses a master's degree, the GPA requirement applies to that degree)
In addition to meeting admission requirements of the University, the student must:
Submit two letters of recommendations, all transcripts and a goals statement
Be approved by the Department of Educational Foundations and Policy Studies for graduate work
Upon admission, students will be assigned advisors who will help them to outline the appropriate program. All work for the program must be approved by the advisor and the departmental graduate committee.
For additional information please contact our program coordinators:
contact Dr. Jason Wozniak
To apply for the graduate program, visit The Graduate School site and click on the APPLY NOW button.
* This program does not lead to teacher certification.
Apply Now Program Requirements Previous Thesis Projects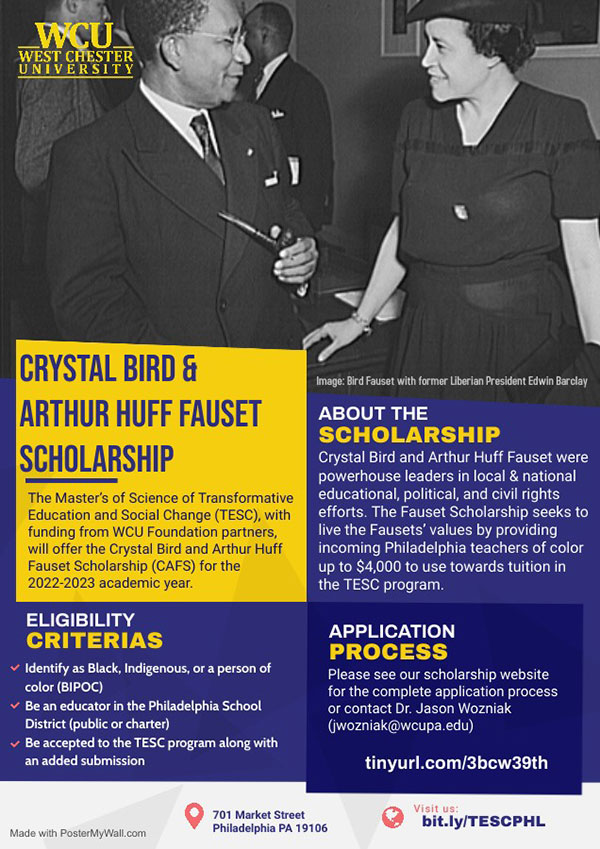 Testimonials
A lot of my coworkers have completed online programs and it seemed to be made up of "busy work". I wanted a program that would allow me to really get something out of it. I came across our MEd Secondary Education: Transformative Urban Education and Social Change Program at at WCU and it has been one of the best decisions I've ever made. The professors in the program know me on a personal level.

Alexandra C.

Math Teacher in Royersford, PA since 2012

The MEd Secondary Education: Transformative Urban Education and Social Change Program has offered me many insights and useful skills into my teaching profession. Through the course of this program, I have been able to identify and begin to develop solutions to issues within my classroom. I have gained a deep understanding in the nuances of the education system in which we teach, and how to appropriately align my teaching practices to best suit my students' needs.

Rob V.
Physics Teacher in Kennett Square, PA since 2012

Being a full-time high school classroom teacher, I was initially nervous to take on such a demanding task like grad school while I was working. But the professors have always understood our schedules and work demands. What we read, watched, and talked about often times related to what was directly happening in my own classroom.

Samantha P.

English Teacher in West Grove, PA since 2012


I chose the program because I knew that I wanted to be able to interact with classmates and professors within the classroom as opposed to solely online. The structure of the program has helped me grow in my profession as an educator by giving me the opportunity to invest my time and work into a plan for change. This in turn has given me a stronger sense of purpose within my career and life-long learning.

Erin M.

Math Teacher in West Grove, PA since 2012


The MEd Secondary Education: Transformative Urban Education and Social Change Program at West Chester University has truly been an enlightening experience. It has allowed me to take a critical look at issues that are relevant to my teaching. Too often teachers isolate themselves and do not see meaning beyond their classrooms. This program opens your eyes to education at a state, national, and global level. In this program you get to select an issue in education that you feel passionate about, research the issue, and develop a thesis. Because it is an issue you care about, it makes the program very rewarding.

Michelle F.

Math teacher in King of Prussia, PA since 2009

As a public school teacher in Philadelphia, I have seen the inequities and injustices of the US Education system first-hand and experienced the ways that it puts my students at a disadvantage when compared to the wealthier suburbs. Rather than continuing to accept these inequities and devising ways to work around them, the Transformative Education for Social Change curriculum has helped me to see that it is the system itself that needs to be changed.

Heidi K.

High school English and ESOL teacher, School District of Philadelphia since 2017

The professors I've had have been extremely supportive, understanding, and flexible. The small class sizes allow for students to form close relationships with each other and professors through critical conversations surrounding subject matter and current policy. … I think this program is amazing for people- especially educators, who are wholeheartedly dedicated to creating change.

Chloe P.

4th year Kindergarten teacher, School District of Philadelphia

These courses have provided the most robust, critical, in-depth, and analytical analysis of public education that I have ever experienced. My HBCU background afforded me a solid foundation as an educator and this Transformative Urban Education and Social Change program will forever change my approach to education.

The knowledge that I have gained goes beyond just teaching, it makes me want to be a better human being.

Christo J.

Middle school teacher, Springfield School District

The TESC program at WCU has enabled me to view my teaching practice through a critical lens. This is the exact professional endeavor I was looking for to help me grow and consider ways to shape young minds and the future of education. As a full-time teacher, I am grateful for the affordability and accessibility of this program, as well as its outstanding faculty.

Alexis A.

K-8 Music Teacher Philadelphia
Back to top of page.